``My inner Storm´´
Volt is a core skylander of the Thunder element in Skylanders Adventures.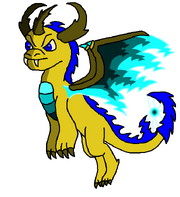 Biography
Edit
Volt comes from a kind of electric dragons that are able to transform into living storms, the comes from the Royal family of its kind and it was time you that should trigger the primal storm, a storm that towards possible life in his Kingdom but one day an evil Hunter of storms was prepared to hunt down the original storm and when Volt unleashed the storm Hunter captured it and realizing account Volt was by Hunter and steal the storm but instead of unleashing her Wyvern absorbed the storm, still only capable of surviving in Skylands electric dragon.
He shoot lightning with his wings.
He can shoot thunders out of his mouth.
He can transform into the primal storm.
Ad blocker interference detected!
Wikia is a free-to-use site that makes money from advertising. We have a modified experience for viewers using ad blockers

Wikia is not accessible if you've made further modifications. Remove the custom ad blocker rule(s) and the page will load as expected.