Total Drama Skylanders is a Spin-Off which a certain group of Skylanders compete for 1,000,000,000 gold. The Skylanders are Prism Break, Deja Vu, Pop Thorn, Legendary Trigger Happy, Dark Pop Fizz, Wolfgang, Chompy, Pop Fizz, Trap Loop, Purple-Boned Silver Fire Bone Hot Dog, Doom Stone, Legendary Stealth Elf, Watermelon Pop Thorn, Gill Grunt, Scarlet Mini-Jini, Dark Spyro, Cynder, Scarlet Ninjini, Nitro Freeze Blade, Gearshift, Funny Bone, Dark Kaos. The Teams are Menacing Chompies and Rocking Sheep.
Menacing Chompies: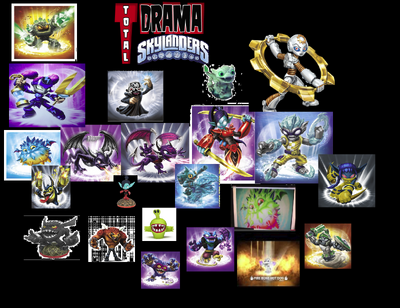 Trap Loop
Wolfgang
Nitro Freeze Blade
Dark Kaos
Chompy
Legendary Stealth Elf
Gill Grunt
Dark Spyro
Cynder
Legendary Trigger Happy
Gearshift

Rocking Sheep;
Prism Break
Deja Vu
Pop Thorn
Dark Pop Fizz
Pop Fizz
Purple-Boned Fire Bone Hot Dog
Doom Stone
Watermelon Pop Thorn
Scarlet Mini-Jini
Scarlet Ninjini
Funny Bone
Ad blocker interference detected!
Wikia is a free-to-use site that makes money from advertising. We have a modified experience for viewers using ad blockers

Wikia is not accessible if you've made further modifications. Remove the custom ad blocker rule(s) and the page will load as expected.