``I´m freezing!´´
-Snow Queen´s Offical catchphrase
Snow Queen is a Giant skylander of the Ice element in
Skylanders Adventures
.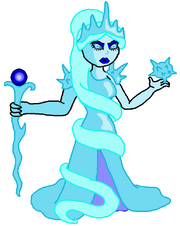 Appearance
Edit
She has light blue skin and pale turquoise hair, has a shoulder straps, dress and Icecrown and his weapon is a Royal scepter.
Biography
Edit
One day the master Eon shipping to Chill to retrieve a magical treasure they had stolen the Cyclops, and when Chill came to the Kingdom of the Cyclops, discovered that the weapon so powerful was the Royal Sceptre of the Snow Queen, whom Chill has always been looking for. Chill defeated the Cyclops and escaped from the Kingdom with the scepter, but when you would give the scepter to master Eon, the scepter is fell to the ground and broke and thus releases a supreme force of ice, the Snow Queen.
Strenght: 80
Defense: 150
Agility: 100
Luck: 180
She can throw Ice balls.
She can create Ice barriers.
She can create a Snow Storm.
Ad blocker interference detected!
Wikia is a free-to-use site that makes money from advertising. We have a modified experience for viewers using ad blockers

Wikia is not accessible if you've made further modifications. Remove the custom ad blocker rule(s) and the page will load as expected.