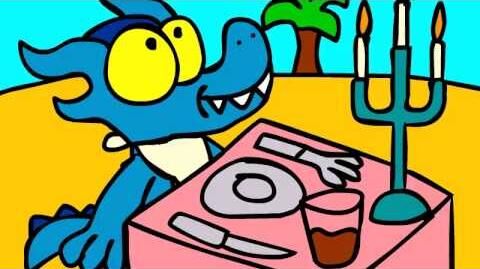 Snap Shot's Snack is an animated short made by Black Rhino Ranger (BRR for Short, BRRGames on Youtube and BRRSpore on Wikia). This is the first animation to feature the Trap Masters from the 4th Skylanders game, Trap Team.
Snap Shot was relaxing on the beach. However, he felt hungry. Suddenly, he saw a jet packing chicken and thought about eating him. He uses his traptanium bow and arrow and hits the chicken. As the chicken falls, Snap Shot eats him in one gulp. Afterwards, he rests on a tree and yawns. The chicken then seizes the opportunity and exits from Snap Shot's mouth. Snap Shot then thinks he should have ate two birds.
Characters
Edit
Snap Shot
Jet Pack Chicken
This animation has created some controversy over Snap Shot's lack of armor. BRR says "he needed to take off his armor because it's sweaty and uncomfortable to relax in the sun with all that armor". It was also for the fact that he is a cold blooded reptile (like he officially says in the Skylanders Trap Team Disdovery Trailer) and being a reptile means you have to show a lot of yourself towards the sun.
When the Jet pack Chicken came by, that scene showed his name with a parody of a scientific name (Gallus gallus Jetpackus). This is a reference to the Wile E. Coyote and Road Runner Cartoons.
The scene where the Jetpack Chicken was waving his arms and legs while falling and Snap Shot runs backwards and eats him was rotoscoped over a Disney short film, Goliath II.

The chicken escaping from Snap Shot's mouth was also the reference to Goliath II.
Ad blocker interference detected!
Wikia is a free-to-use site that makes money from advertising. We have a modified experience for viewers using ad blockers

Wikia is not accessible if you've made further modifications. Remove the custom ad blocker rule(s) and the page will load as expected.