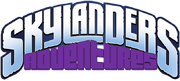 After Kaos was forced into at traptainium crystal, Skylands seemed to be at peace. Sadly, it didn't last. As a new evil approached the Skylands, the citizens were forced to evacuate. As they left on their ships, the Skylanders went ahead of them to find a new home. However, as they were searching, new heros were found!
There will be now 18 Elements, there are: Fire Tech Desert Thunder Posion Life Time Air Water Ice Magic Ether Earth Light Space Metal Undead Darkness
Expansions
Edit
There will be 16 Free Expansions for the Game:
1.Skylanders: The Return of The Giants
MORE COMING SOON...
Ad blocker interference detected!
Wikia is a free-to-use site that makes money from advertising. We have a modified experience for viewers using ad blockers

Wikia is not accessible if you've made further modifications. Remove the custom ad blocker rule(s) and the page will load as expected.