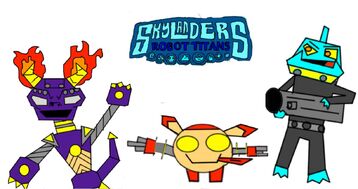 it's the ultimate battle for skylands, good vs. evil, your fav characters join you in new mecha-suit's. choose your side, join the fight and win over skylands for your side!
choose your side! join the skylanders or work with kaos.
all new in-game companions allow your fav skylanders/villains to aid in battle!
and lots more!
Skylanders side
Edit
skylanders
Companions
Edit
Kaos side
Edit
Villians:
Edit
Companions
Edit
Ad blocker interference detected!
Wikia is a free-to-use site that makes money from advertising. We have a modified experience for viewers using ad blockers

Wikia is not accessible if you've made further modifications. Remove the custom ad blocker rule(s) and the page will load as expected.