Developer(s)
Beenox (Xbox One, PS4, Wii U, 3DS)
Publisher(s)
Activision
Genre(s)
Platform
Mode(s)
Single Player

Co-Op

Rating(s)
E10+
Platform(s)
Xbox One

Xbox 360 PS3 PS4 Wii Wii U 3DS PS Vita

Series
Skylanders
Predecessor
Skylanders: Swap Force
Successor
Skylanders: Cosmos
"Make a Splash!"
    —The game's tagline

Skylanders: Aqua Squad is a new entry in the Skylanders series, developed by Activision and Vicarious Visions. The game revolves around the Aqua Squad, a group of Skylanders who guarded the ancient city of Atlantis. Each Aqua Squad Skylander has two elements. The second one is always Water. There are 16 new core characters and 16 returning lightcore characters. There are also 16 new Aqua Squad Skylanders. It takes a lot of inspiration from Swap Force, having the same HD graphics, jumping mechanic, etc. It is the first Skylanders game in the series to implement four player co-op.
Story
Thousands of years ago, the Giants ruled the land. Not much was known about them, until they were uncovered. But at the same time, far beneath the surface, lived the Aqua Squad, a magical group of Skylanders who watched over and guarded Atlantis. The Titan Pearl was what gave the city its power. But when Atlantis was attacked by the insidious A.N.C.H.O.R., the Aqua Squad was forced to fight back. They were defeated, but they couldn't bear to watch their city crumble. Very weak, and nearly upon death, they struggled to keep the Titan Pearl safe. The crew of A.N.C.H.O.R. retreated. The attack was still not over. As the evil gang of raiders sailed away, they decided to not leave anything behind them, so they shot down the city with supercharged cannons. All the citizens had already escaped, but the Aqua Squad refused to move. A giant piece of debris then smashed into them and the Titan Pearl, releasing its magic. They absorbed the huge amount of energy, and gained mysterious powers. Now, it is up to the Portal Master to find the Silver Trident, an ancient relic that may be enough to restore the city. But, there will be many obstacles in the Skylanders' path. With the help of the magical Aqua Squad and the other Skylanders, the Portal Master will not be alone.
Characters
Spyro now plays a much larger role than in previous titles. Many of the other Skylanders, old and new, also have some dialogue and larger roles than ever before.
Every Skylander from the previous games is compatible with Skylanders: Aqua Squad.
The color on the bottom of each figure is now turquoise.
Main:
Flynn
Master Eon
Hugo
Cali
Sharpfin
Skylanders:
Magic:
Bewitched Voodood (Lightcore)
Beast Pop Fizz (Lightcore)
Fire:
Scorching Sunburn (Lightcore)
Ballistic Fryno (Lightcore)
Undead:
Take Down Fright Rider (Lightcore)
Ghostly Grim Creeper (Lightcore)
Life:
Dual Blade Stealth Elf (Lightcore)
Hyper Sling Shroomboom (Lightcore)
Air:
Windstorm Jet Vac (Lightcore)
Spiny Pop Thorn (Lightcore)
Earth:
Mega-Rang Dino-Rang (Lightcore)
Venom Scorp (Lightcore)
Tech:
Explosive Boomer (Lightcore)
Self-Destruct Countdown (Lightcore)
Water:
Electro-Mace Wham-Shell (Lightcore)
Tsunami Riptide (Lightcore)
Legendary:
Legendary Drumroll
Legendary Pop Fizz
Legendary Boomer
Legendary Gill Grunt
Legendary Eruptor
Variants:
Astro Nova
Glow-In-The-Dark Glo-Beam
Tricky Riddle
Catchphrases
Main Article: Skylanders: Aqua Squad/Catchphrases
Aqua Squad
Main Article: Aqua Squad
Mechanics
New:
The game introduces brand new water mechanics. You can go in the water and swim, dive, attack, and more. These swimming mechanics are, however, limited to only Aqua Squad Skylanders. There is a new move that any Skylander can perform by pressing the right or left trigger: diving. You can use this to jump out of the way of enemies.
A big new feature is the addition of four-player co-op. Four people can play simultaneously in Story, Battle, and Party modes.
Another huge addition is Skylanders Online, where players can play all of the modes online. This is a much awaited inclusion.
There are some side-scrolling sections that are now in the middle of levels. These work the same as they did in the last game, but now have more variety, complexity, and fixed oddities.
Returning:
Many of the mechanics from Swap Force are reused. Such as jumping, some Swap-Force zones, etc.
Control Changes:
All Skylanders are now made to control very easily, opening up new possibilities. Every character has a double jump, ledge grab, dive, sprint, and air attack (attacking while jumping). This makes the world feel even more expanded.
Gameplay Changes
The world is now expanded more than ever before, with some levels even featuring multiple paths and choices. It is also more focused on making the areas of the game feel connected (i.e. you can see Pinewood Village from Pinewood Peak).
Skylanders' max level is now raised to 30, making their stats all maxed at 300.
The hub world, Cascade City, is now bigger than ever before, with players being able to explore all around the area, along the beach, and even enter the Dread Yacht.
Starter Packs
The Portal of Power from Swap Force is reusable, much to the relief of fans. The Aqua Squad Skylanders don't have big enough changes for a new portal to be required.
PS3/XBOX 360/Wii/Wii U/PS4/XBOX ONE:
Portal-Owners Pack: Includes Spyro, Tidal Wave, and Riddle
Starter Pack: Includes Portal Of Power, Spyro, Tidal Wave, and Riddle
3DS/PS VITA:
Portal-Owner's Pack: Includes Spyro, Jigsaw, and Tricky Riddle
Starter Pack: Includes Portal Of Power, Spyro, Jigsaw, and Tricky Riddle
Adventure Packs
Rusty Clockworks: Includes Gizmo, Rusty Clockworks, and Control Freak
Molten Volcano: Includes Inferno, Molten Volcano, and Smokescreen
Adventure Temple: Includes Spyro, Eruptor, Gill Grunt, Trigger Happy, and Adventure Temple
Levels
Chapter 1: The Aqua Squad
Chapter 2: Tangled Thicket
Chapter 3: Arkeyan Ruins
Chapter 4: Crossbone Cliff
Chapter 5: Colossus' Chamber (BOSS BATTLE)
Chapter 6: Pinewood Peak
Chapter 7: Pinewood Village
Chapter 8: Skyward Ambush
Chapter 9: Twilight Sky
Chapter 10: Phoenix's Phortress (BOSS BATTLE)
Chapter 11: Flaming Meadows
Chapter 12: Murky Marsh
Chapter 13: Moonlight Springs
Chapter 14: Autumn Falls
Chapter 15: King Wyvern's Cavern (BOSS BATTLE)
Chapter 16: Windmill Mountain
Chapter 17: Surfshine Coast
Chapter 18: Cutthroat's Cove
Chapter 19: Atlantis
Chapter 20: The Last Stand (FINAL BOSS)
Bonus Chapter: Party Time
Gallery
Sequel
The sequel,
Skylanders: Cosmos
, was released in June. It has a space theme to it.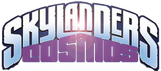 Trivia
This is the first game in the series not to feature Kaos as the main villain.

However, this does not include the handheld versions, which all feature different villains.

This is the first game in the series to introduce four player co-op/versus.
Ultraviolet, Shriek, Flash Sprout, and Pitfall are the only female characters confirmed thus far.
Wyvern and King Wyvern are shown to be of the same species.

Many Skylanders' species are shown in the game, such as Stealth Elf's kind and Terrafin's family.

Surfshine Coast is obviously based on Surfshine Harbor from Paper Mario: Sticker Star.