``Transform you in Ssssstone´´
Gorgon is a new core skylander of the Darkness element in Skylanders Adventures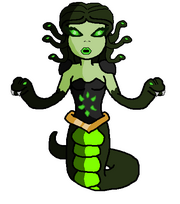 Biography
Edit
Gorgon was found by two huge basilisk in a river, these two took it and raised it. She was learning to behave like snakes but could never be one of them.Gorgon loved snakes and one day an evil magician heared about her love of snakes and then was looking for so he combine her and for this is transformed into a giant snake, but Gorgon refused to make the proposal of the magician and the angry turned it into a Gorgon and then Gorgon turned him into stone and was in search of a cure by Skylands Eon which saw its power Serbia for good and is joined to the skylanders.
She attacks with the snakes of her arms.
She floats in her giant snake form.
She petrifies.
Ad blocker interference detected!
Wikia is a free-to-use site that makes money from advertising. We have a modified experience for viewers using ad blockers

Wikia is not accessible if you've made further modifications. Remove the custom ad blocker rule(s) and the page will load as expected.