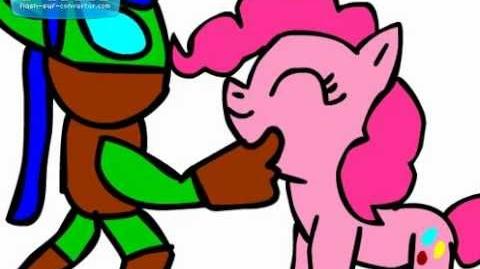 Flameslinger's Valentines Day is a flash animated short made by Black Rhino Ranger (BRR for Short, BRRGames on Youtube and BRRSpore on Wikia). He made this when he was not pleased with valentines day.
Flameslinger was offering Stealth Elf some flowers and candy. Stealth Elf rejects Flameslinger, causing him to commit suicide with his bow and arrow.
Characters
Edit
Stealth Elf
Pinkie Pie (From My Little Pony: Friendship is Magic)
Flameslinger
According to BRR, the dialogue used in this film was actually deleted audio clips from the Skylanders Christmas movie which was also made by BRR.
Pinkie Pie breifly appears in the short.
When Flameslinger was shocked, his red blindfold dropped, revealing a yellow blindfold. This is a reference to the Skylanders Giants reveal trailer.
A year later, Activision created an alter ego Cupid Flameslinger on the Lost Islands game to represent Valentines day. It was a limited time offer.
Ad blocker interference detected!
Wikia is a free-to-use site that makes money from advertising. We have a modified experience for viewers using ad blockers

Wikia is not accessible if you've made further modifications. Remove the custom ad blocker rule(s) and the page will load as expected.