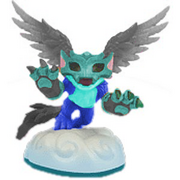 Diamond Scratch
is a fan-made blue variant of the Skylander 
Scratch
, originally made by
AdamGregory03
.
Background
Edit
Biography
Edit
High in the peaks of Cats Eye Mountain sits a towering city of crystal and gold that can only be reached by creatures of the Air Element. It was here that Scratch spent her youth soaring playfully in the clouds or exploring the endless number of crystal mines. One day, an army of Pirate Greebles arrived in a fleet of airships, looking to steal ancient magic crystals buried deep in the mountain. Donning specially made armour, Scratch led an epic battle against the pirates, using her incredible fighting skills to defend the crystals and the city. Tales of her heroism soon made their way to Jet-Vac, who traveled to Cats Eye Mountain and recruited Scratch to the Skylanders.
Ad blocker interference detected!
Wikia is a free-to-use site that makes money from advertising. We have a modified experience for viewers using ad blockers

Wikia is not accessible if you've made further modifications. Remove the custom ad blocker rule(s) and the page will load as expected.