``Sing the Song of the Underworld´´
Deadly Siren is a Space Warrior of the Undead element in Skylanders Adventures.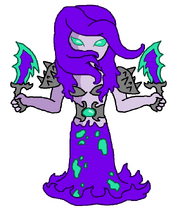 Biography
Edit
Deadly Siren was the Warrior more powerful catacombs and priestess of Hades was the God of the underworld, a Deadly Siren day discovered that a thief had stolen from the temple the helmet of Hades and pursued him, but when Deadly Siren found it discovered that it had become the helmet in swords, then Deadly Siren remove you the thief swords and use them to become invisible and since the town had been created with a material that could disappear when I defeated the thief was recruited by the Skylanders.
She can hit with her swords.
She can sing and release sonic waves.
She can transform her dress into a vortex.
Ad blocker interference detected!
Wikia is a free-to-use site that makes money from advertising. We have a modified experience for viewers using ad blockers

Wikia is not accessible if you've made further modifications. Remove the custom ad blocker rule(s) and the page will load as expected.